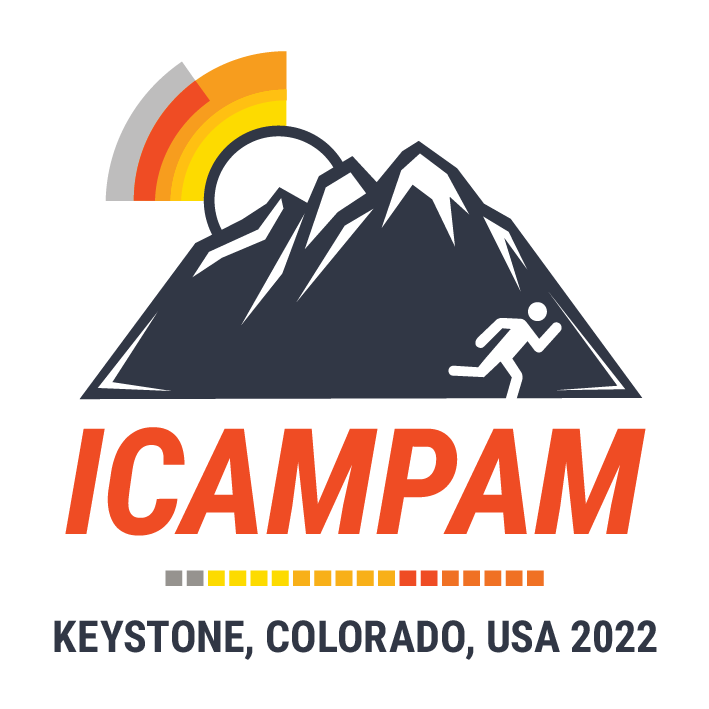 ICAMPAM 2022 
June 21 – 24, 2022
Keystone, Colorado USA
The International Society for the Measurement of Physical Behaviour (ISMPB) is excited to welcome you back in person for their 8th International Conference on Ambulatory Monitoring of Physical Activity and Movement (ICAMPAM).
Dear ISMPB Members & ICAMPAM Attendees,
We are putting together an exciting program for our members at ICAMPAM in Keystone, Colorado from June 21-24, 2022. You will see our call for workshop proposals, symposia, oral presentations and posters are now live.
We know that many are eager to meet in-person again and we can't wait to see you all in the beautiful mountains of Colorado. If your circumstances permit, please plan to be with us in-person in Keystone. Keystone is a wonderful resort near Denver that we can't wait to explore the natural surroundings with our colleagues from near and far.
We are expecting all talk to be in-person with all poster presenters having the option to present in-person or virtually. If you cannot attend, please note that we will be offering a simplified online version of the ICAMPAM conference with keynote presentations and likely a few follow up sessions, including a virtual poster session.  Online attendees will be able to interact with all other attendees via the Whova app and will have a reduced registration rate to attend.
If you plan to attend the conference in-person, we encourage you to take advantage of the conference hotel. First, and perhaps most importantly, staying at the conference venue will enhance your experience, providing an ideal opportunity for you to network and socialize with other attendees and take advantage of the wonderful on-site facilities. Second, the society signed an agreement with the venue that allocates a certain number of rooms for conference attendees, so if you're on the fence, please book with the conference hotel. We have been able to arrange some highly discounted hotel rates, including a hotel that will allow 4 people per room (!) for the deal-hunters amongst you.
Of course, as with everything in the last two years, circumstances could change, and we appreciate your patience and understanding. We too are doing the best we can and are hopeful we will see you in Colorado in June looking at the mountains together on the beautiful sunset deck.  In the meantime, stay well and please reach out if you have additional questions.
Sincerely,
Bronwyn Clark (President) & Alan Donnelly (President Elect),
Jeff Hausdorff & Sarah Keadle Kozey (ICAMPAM 2022 Program Chairs),
Ed Melanson & Kate Lyden (ICAMPAM 2022 Local Hosts)
Key Dates
| | | | |
| --- | --- | --- | --- |
| November | 1 | 2021 | Oral & Poster Abstracts call open |
| November | 1 | 2021 | Symposia Submissions Open |
| November | 1 | 2021 | Pre-Conference Workshop Submissions Open |
| January | 26 | 2022 | Pre-Conference Workshop Close |
| January | 26 | 2022 | Symposia Submission Close |
| January | 26 | 2022 | Registration open |
| February | 15 | 2022 | Oral & Poster Abstracts deadline |
| April | 15 | 2022 | Early Bird Registration Rate Ends |
| June | 21-24 | 2022 | ICAMPAM Conference |
Committees
Local Host Chairs:
Ed Melanson, University of Colorado Anschutz Medical Campus
Kate Lyden, KAL Consulting
Scientific Program Chairs:
Jeff Hausdorff, Tel-Aviv Sourasky Medical Center
Sarah Keadle, California Polytechnic State University
Local Organizing Committee:
Seth Creasy, University of Colorado Anschutz Medical Campus
Danielle Ostendorf, University of Colorado Anschutz Medical Campus
Jen Blankenship, University of Colorado Anschutz Medical Campus
Ann Caldwell, University of Colorado Anschutz Medical Campus