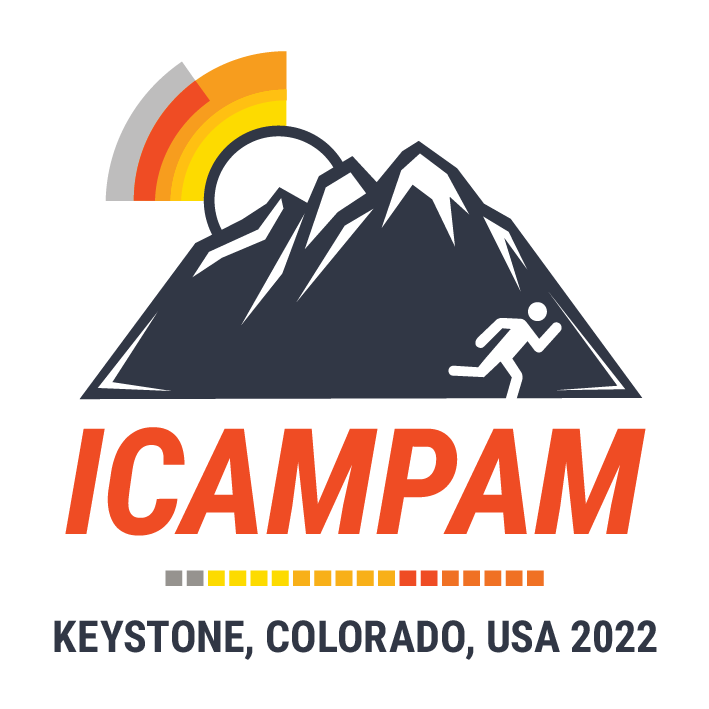 ICAMPAM 2022
June 21 – 24, 2022
Keystone, Colorado USA
Learn more about how you may take advantage of the Whova app during ICAMPAM 2022:
Welcome
The International Society for the Measurement of Physical Behaviour (ISMPB) welcomes you to the 8th International Conference on Ambulatory Monitoring of Physical Activity and Movement (ICAMPAM) which is being held in-person at Keystone, Colorado from June 21 – 24, 2022.
ICAMPAM is once again taking advantage of the virtual experience of Whova.  Those who are unable to travel to Colorado have the opportunity to access some of the proceedings and interact with other attendees.  In-person attendees will also find Whova's virtual tools useful in enhancing their ICAMPAM experience.
Access to the ICAMPAM Whova Experience available Monday, 20 June at 10:00 AM (MDT)
* If this is your first time using Whova, you will need to sign up for a Whova account. Please be sure to use the email address you used to register for the ICAMPAM Conference.
* If you already have a Whova profile, please make sure it was based on the email address which you used to register for ICAMPAM 2022, otherwise you will need to sign up for a new account.
*There will be a lag between the time of registration and access to Whova as these systems are not automatically integrated. (These systems are separately managed so access to one platform does not immediately or automatically guarantee access to the second). Please contact  if you are concerned about the length of time that has elapsed without access to Whova.
Tips for Getting the Most Out of Attending ICAMPAM 2022:
Familiarize Yourself with Whova's Virtual Setting
Make sure that you have a stable internet connection to minimize technical glitches. Test your audio/video before logging on, to ensure a smooth experience all round. To prevent caching issues, we encourage using the 'incognito' or 'private' mode within your chosen browser – this way you login fresh each day to the new content.  Whova recommends you access the platform through Google Chrome Browser for the best results.
Organize Your Schedule
Similar to attending an on-site conference, take time to review the program and plan ahead, to determine which sessions and live Q&A's you wish to attend.
Be an Active Participant
Participate beyond just watching and listening – take notes and ask questions during sessions. Allow social media to be a natural extension of the virtual platform and use the #ICAMPAM2022 hashtag to further the discussion of topics and themes online.
Reduce Distractions
This is much easier said than done. If possible, try and find a quiet space to focus on the conference content.
Take a Flexible Approach
Take the pressure off and utilize the flexibility of a virtual event by using the on-demand service to watch Keynote sessions you missed, in your own time.  The on-demand service enables you to watch the Keynote sessions within 24-hours after they stream live, for up 90 days after the conference ends.
Local Host Chairs:
Ed Melanson, University of Colorado Anschutz Medical Campus
Kate Lyden, KAL Consulting
Scientific Program Chairs:
Jeff Hausdorff, Tel-Aviv Sourasky Medical Center
Sarah Keadle, California Polytechnic State University
In light of the elevated infections level of the Omicron variant in Colorado, attendees are strongly encouraged to wear masks in the meeting areas.
As of 12:01AM ET on June 12, 2022, CDC will no longer require air passengers traveling from a foreign country to the United States to show a negative COVID-19 viral test or documentation of recovery from COVID-19 before they board their flight. For more information, see Rescission: Requirement for Negative Pre-Departure COVID-19 Test Result or Documentation of Recovery from COVID-19 for all Airline or Other Aircraft Passengers Arriving into the United States from Any Foreign Country.
Thank you to our Sponsors