ICAMPAM 2021
June 22-24, 2021
Virtual Conference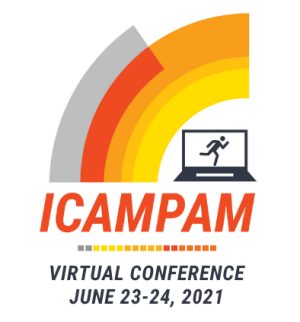 The International Society for the Measurement of Physical Behaviour (ISMBP) is excited to announce the first Virtual International Conference on Ambulatory Monitoring of Physical Activity and Movement (ICAMPAM). You can expect a scientific programme of over 10 hours including keynote lectures, a lively interactive debate and several poster sessions.
All abstracts of presented posters will be published in our Journal
Prizes for the best posters
Discuss your work with participants
Content will be live and on-demand to suit schedules all over the world!
Committees
Conference Chairs:
Martina Mancini, Oregon Health & Science University
Jeff Hausdorff, Tel-Aviv Sourasky Medical Center

Conference Organizing Committee:
Malcolm Granat, University of Salford, Manchester, UK
Bronwyn K. Clark, The University of Queensland, Australia
Miriam Cabrita, Innovation Sprint, the Netherlands
Alan Donnelly, University of Limerick, Ireland
Jorunn Helbostad, Norwegian University of Science and Technology, Norway
Richard (Rick) Troiano, National Cancer Institute, USA
Scientific Program Committee:
Chairs:
Jeff Hausdorff, Tel-Aviv Sourasky Medical Center
Sarah Keadle, California Polytechnic State University
Committee members:
Kamiar Aminian, Ecole Polytechnique Federale de Lausanne
David Bassett, University of Tennessee, Knoxville
Brian Caulfield, University College Dublin
Sebastien Chastin, Glasgow Caledonian University, Ghent University
Lorenzo Chiari, Universita' di Bologna
Rachel Colley, Statistics Canada
Philippa Dall, Glasgow Caledonian University
Sjaan Gomersall, The University of Queensland
Lena Granovsky, GSK
Andreas Holtermann, National Research Centre for the Working Environment
Laurie King, Oregon Health & Science University
Claudine Lamoth, University of Groningen
Brigid Lynch, Cancer Council Victoria
Claudia Mazza, University of Sheffield
Joanne McVeigh, Curtin University
Kimio Oguchi, National Taiwan University of Science and Technology
Karin Pfeiffer, Michigan State University
Alex Rowlands, University of Leicester
Jeffer Sasaki, The Federal University of Triângulo Mineiro
Eric Shiroma, National Institute on Aging
Rachel Taylor, University of Otago
Hidde van der Ploeg, Amsterdam UMC
Kim Van Schooten, University of New South Wales Medicine
Beatrix Vereijken, Norwegian University of Science and Technology
Kerri Winters-Stone, Oregon Health and Science University
Key Dates
| | | | |
| --- | --- | --- | --- |
| January | 25 | 2021 | Call for Abstracts Opens |
| March | 4 | 2021 | Registration Opens |
| May | 10 | 2021 | Abstract Submission Deadline |
| May | 24 | 2021 | Submissions notified of acceptance |
| June | 15 | 2021 | Early Bird Registration Rate Ends |
| June | 22-24 | 2021 | ICAMPAM Virtual Conference |
Registration Rates
| | | |
| --- | --- | --- |
| Members | Prior to June 15 | After June 15 |
| Scientist/PI | $150 | $250 |
| Post-Doc / Student | $100 | $200 |
| | | |
| --- | --- | --- |
| Non-Members | Prior to June 15 | After June 15 |
| Scientist/PI | $350 | $400 |
| Post-Doc / Student | $200 | $250 |