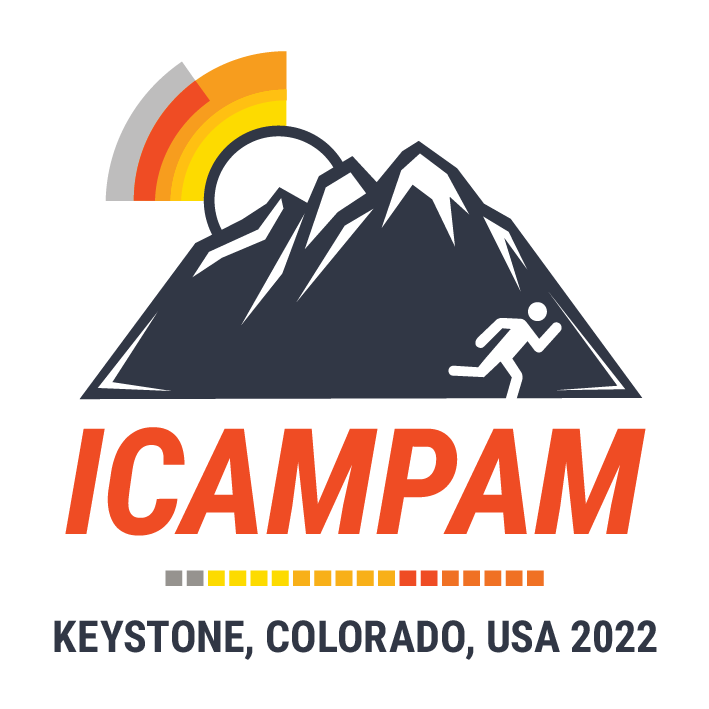 ICAMPAM 2022 
June 21 – 24, 2022
Keystone, Colorado USA
The International Society for the Measurement of Physical Behaviour (ISMPB) is excited to welcome you back in person for their 8th International Conference on Ambulatory Monitoring of Physical Activity and Movement (ICAMPAM).
THIS IN-PERSON CONFERENCE WILL HAVE A LIMITED VIRTUAL COMPONENT.
Dear ISMPB Members & ICAMPAM Attendees,
Given the easing of travel restrictions, we expect you are now excited to join us at ICAMPAM in Keystone, Colorado from June 21-24, 2022. You will see we have put together an exciting program.  We'd like to have you part of this program, so please submit workshop proposals, symposia, oral presentations and posters through this link.
We know that many are eager to meet in-person again and we can't wait to see you all in the beautiful mountains of Colorado. If your circumstances permit, please plan to be with us in-person in Keystone. Keystone is a wonderful resort near Denver that we can't wait to explore the natural surroundings with our colleagues from near and far.
The ICAMPAM 2022 program includes in-person keynote speakers, oral presentations, workshops and symposia. Posters may be presented in-person or virtually.  For those who are unable to attend in-person, a simplified online version of the ICAMPAM conference with 1 day of live streaming, poster sessions and recorded content. Online attendees will be able to interact with all other attendees via the Whova app and will have a reduced registration rate to attend.
If you plan to attend the conference in-person, we encourage you to take advantage of the conference hotel. First, and perhaps most importantly, staying at the conference venue will enhance your experience, providing an ideal opportunity for you to network and socialize with other attendees and take advantage of the wonderful on-site facilities. Second, the society signed an agreement with the venue that allocates a certain number of rooms for conference attendees, so if you're on the fence, please book with the conference hotel. We have been able to arrange some highly discounted hotel rates, including a hotel that will allow 4 people per room (!) for the deal-hunters amongst you.
We are thrilled that circumstances have changed so rapidly these past weeks allowing you to join us in Colorado this June where we can chat on the beautiful sunset deck at the feet of the glorious surrounding mountains. Until then, stay well and please reach out if you have additional questions.
Sincerely,
Bronwyn Clark (President) & Alan Donnelly (President Elect),
Jeff Hausdorff & Sarah Keadle Kozey (ICAMPAM 2022 Program Chairs),
Ed Melanson & Kate Lyden (ICAMPAM 2022 Local Hosts)
Key Dates –
| | | | |
| --- | --- | --- | --- |
| May | 3 | 2022 | Early Bird Registration Rate Ends |
| May | 20 | 2022 | Late Breaking Poster Abstract Submission Deadline |
| June | 21-24 | 2022 | ICAMPAM Conference |
Committees
Local Host Chairs:
Ed Melanson, University of Colorado Anschutz Medical Campus
Kate Lyden, KAL Consulting
Scientific Program Chairs:
Jeff Hausdorff, Tel-Aviv Sourasky Medical Center
Sarah Keadle, California Polytechnic State University
Local Organizing Committee:
Seth Creasy, University of Colorado Anschutz Medical Campus
Danielle Ostendorf, University of Colorado Anschutz Medical Campus
Jen Blankenship, University of Colorado Anschutz Medical Campus
Ann Caldwell, University of Colorado Anschutz Medical Campus
Scientific Program Committee:
Nicolas Aguilar, Universidad de La Frontera, Chile
Kamiar Aminian, Ecole Polytechnique Fédérale de Lausanne, Switzerland
David Bassett, University of Tennessee at Knoxville, USA
Hans Bussmann, Erasmus MC, The Netherlands
Brian Caulfield, University College Dublin, Ireland
Lucy Cesnakova, Digital Medicine Society, USA
Sebastien Chastin, Glasgow Caledonian University, United Kingdom
Lorenzo Chiari, University of Bologna, Italy
Rachel Colley, Statistics Canada, Canada
Sjaan Gomersall, University of Queensland, Australia
Pedro Hallal, Universidade Federal de Pelotas, Brazil
Andreas Holtermann, National Research Centre for the Working Environment, Denmark
Dinesh John, Northeastern University, USA
Claudia Mazza, University of Sheffield, United Kingdom
Joanne McVeigh, Curtin University, Australia
Kimio Oguchi, National Taiwan University of Science and Technology, Taiwan
Kelly Pettee Gabriel, University of Texas School of Public Health in Austin, USA
Fabio Pitta, Universidade Estadual de Londrina, Brazil
Jeffer Sasaki, University of Massachusetts Amherst, USA
Jennifer Schrack, John Hopkins University, USA
Eric Shiroma, National Institutes of Health, USA
Emmanuel Stamatakis, The University of Sydney, Australia
Hidde van der Ploeg, Amsterdam UMC, The Netherlands
Kerri Winters-Stone, Oregon Health & Science University, USA

Thank you to our Sponsors