Journal for the Measurement of Physical Behaviour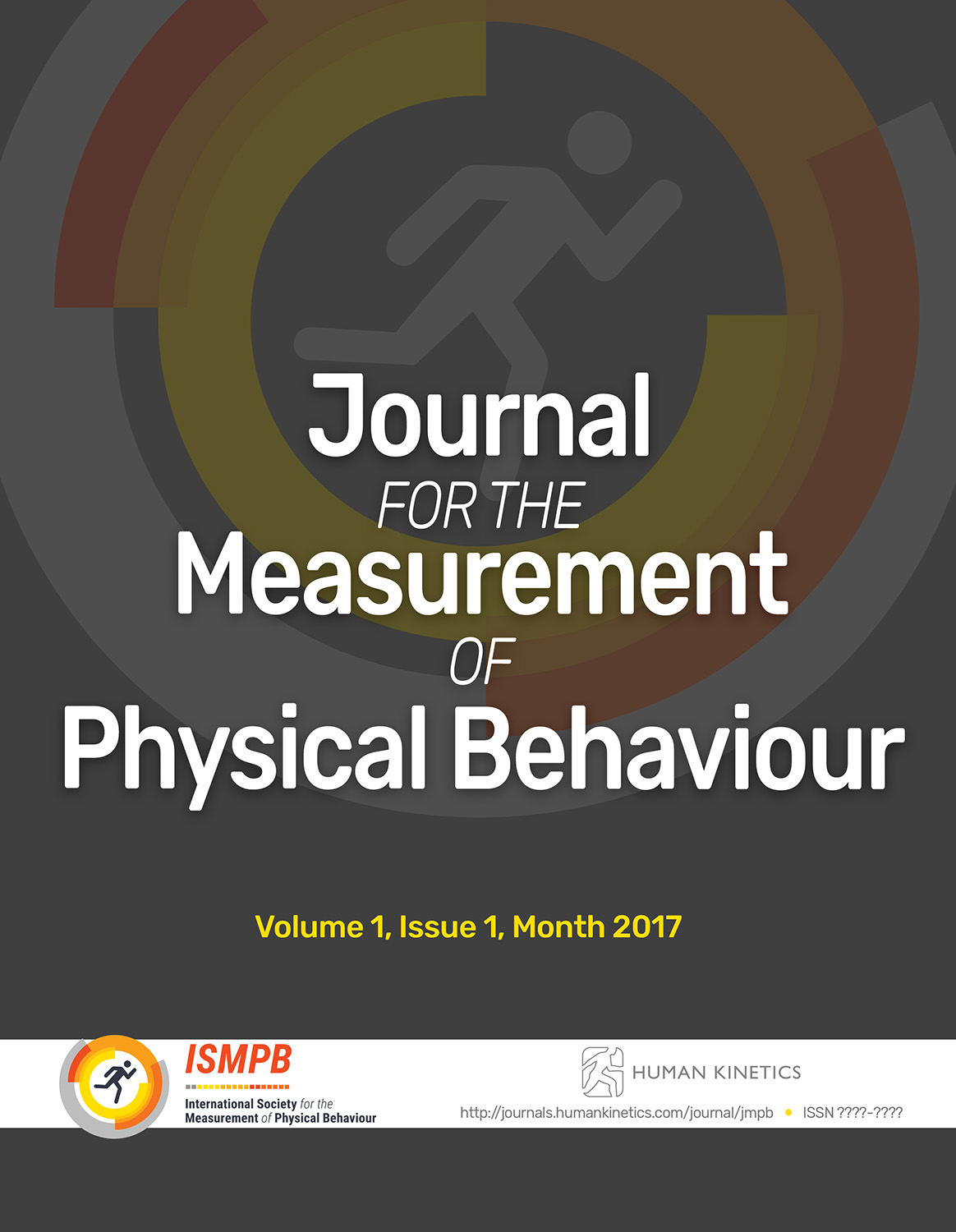 June issue of JMPB now available!
Volume 1, Issue 2
Editorial
Using Wearable Devices to Access Physical Behavior in Epidemiologic Research
Patty Freedson
Original Research
Using Devices to Assess Physical Activity and Sedentary Behavior in a Large Cohort Study, the Women's Health Study
I-Min Lee, Eric J. Shiroma, Kelly Evenson, Masamitsu Kamada, Andrea LaCroix and Julie Buring
Measurement of Sitting Time in Older Adults with and without Alzheimer's Disease
Amer Watts, Mauricio Garnier-Villarreal and Paul Gardiner
Wearable Device Validity in Determining Step Count During Hiking and Trail Running
James W. Navalta, Jeffrey Montes, Nathaniel Bodell, Charli D. Aguilar, Ana Lujan, Gabriela Guzman, Brandi K. Kam, Jacob W. Manning and Mark DeBeliso
Classification and Processing of 24-hr Wrist Accelerometer Data
Anna Pulakka, Eric J. Shiroma, Tamara B. Harris, Jaana Pentti, Jussi Vahtera and Sari Stenholm
Estimating Resting Core Temperature Using Heart Rate
David P. Looney, Mark J. Buller, Andrei Gribok, Jayme L. Leger, Adam W. Potter, William V. Rumpler, William J. Tharion, Alexander P. Welles, Karl E. Friedl and Reed W. Hoyt
Mission
The Journal for the Measurement of Physical Behaviour is the official Journal of the International Society for the Measurement of Physical Behaviour and publishes high quality research papers that employ and/or apply sensor-based measures of physical activity, movement disorders, sedentary behaviour and sleep.
Research from multiple disciplines: kinesiology, psychology, computer science, engineering, statistics, public health, and clinical sciences
Types of papers
Experimental studies
Reviews, cross-sectional and longitudinal (cohort) studies
Brief reports
Technical notes
Evidence based best practices
About the Journal
Publisher: Human Kinetics
On-line journal (hard copies available upon request for extra charge
Part of membership dues ($30 per year)
4 issues per year
Open access publishing possible (fees range from $2000 – $2950)
No page charges
Web portal is open here: https://mc.manuscriptcentral.com/hk_jmpb
Topics (Examples)
Novel methods for sensor calibration and validation
New sensor technology
Analytic advances in measurement and interpretation
New sensor-based outcomes for clinical sciences
Applications of wearable monitors for assessing exposure and outcomes
Evidence based papers leading to best practices for use of wearable sensors in research and clinical settings
For complete submission details, instructions and to submit a manuscript to JSMPB, click the icon above
Access to the Journal for the Measurement of Physical Behaviour is a benefit of membership. 
Keynote and invited speakers are encouraged to submit papers adapted from ICAMPAM 2017 presentations
Poster and podium presenters are encouraged to submit papers adapted from ICAMPAM 2017 presentations
Editor in Chief
Patty Freedson
Journal Operations Committee
Patty Freedson
Ben Stansfield
Alex Rowlands
H.J.G (Rita) Van den Berg
Associate Editors
Stephen Intille
Dinesh John
John Sirard
Rebecca Spencer
John Staudenmayer
Scott Strath
Lisa Cadmus-Betram
Soren Brage
Maria Hagstromer
Joanne McVeigh
John Reilly
Alex Rowlands
Stewart Trost
Editorial Board
Ann Swartz
Kathleen Janz
Rick Troiano
Greg Welk
Scott Crouter
David Bassett
Matt Buman
Sarah Keadle
Kate Lyden
HJG Van den Berg
Alan Donnelly
Phillippa Dall
Ben Stansfield
Malcolm Granat
Jorunn Helbostad