Journal for the Measurement of Physical Behaviour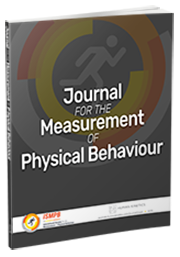 The June 2020 Issue of JMPB now available to ISMPB Members!
Click here to access the member area
Volume 3, Issue 2
ORIGINAL RESEARCH
Consequences of Choosing Different Settings When Processing Hip-Based Accelerometry Data From Older Adults: A Practical Approach Using Baseline Data From the SITLESS Study. Jason J. Wilson, Mathias Skjødt, Ilona McMullan, Nicole E. Blackburn, Maria Giné-Garriga, Oriol Sansano-Nadal, Marta Roqué i Figuls, Jochen Klenk, Dhayana Dallmeier, Emma McIntosh, Manuela Deidda, Mark A. Tully, Paolo Caserotti , On behalf of the SITLESS Group
Physical Activity Monitor Accuracy for Overground Walking and Free-Living Conditions Among Pregnant Women. Christopher P. Connolly, Jordana Dahmen, Robert D. Catena, Nigel Campbell, Alexander H.K. Montoye
Alternative Wear-Time Estimation Methods Compared to Traditional Diary Logs for Wrist-Worn ActiGraph Accelerometers in Pregnant Women. Samantha F. Ehrlich, Amanda J. Casteel, Scott E. Crouter, Paul R. Hibbing, Monique M. Hedderson, Susan D. Brown, Maren Galarce, Dawn P. Coe, David R. Bassett, Assiamira Ferrara
Reported and Device-Based Physical Activity By Race/Ethnic Groups in Young-Old Women. Andrea Stewart, Barbara Sternfeld, Brittney S. Lange-Maia, Kelly R. Ylitalo, Alicia Colvin, Carrie A. Karvonen-Gutierrez, Sheila A. Dugan, Robin R. Green, Kelley Pettee Gabriel
University Student's Perceptions of Self-Tracking Devices, Data Privacy, and Sharing Digital Data for Research Purposes. Marianne I. Clark and Matthew W. Driller
Validation of a Clinically Feasible Activity Monitor Which Measures Body Postures and Movements in Adults With LowerLimb Amputation Who Wear a Prosthesis. Willemijn M.J. van Rooij, H.J.G. van den Berg-Emons, Herwin L.D. Horemans, Malou H.J. Fanchamps, Fred A. de Laat, Johannes B.J. Bussmann
High-Tech Video Capture and Analysis for Counting Park Users. Richard R. Suminski, Gregory M. Dominick, Philip
Saponaro, Elizabeth M. Orsega-Smith, Eric Plautz, Matthew Saponaro
Infant Leg Activity Intensity Before and After Naps. Ivan A. Trujillo-Priego, Judy Zhou, Inge F. Werner, Weiyang Deng, Beth A. Smith
Effect of Monitor Placement on the Daily Step Counts of Wrist and Hip Activity Monitors. Susan Park, Lindsay P. Toth, Scott E. Crouter, Cary M. Springer, Robert T. Marcotte and David R. Bassett
Review
Review of Validity and Reliability of Garmin Activity Trackers. Kelly R. Evenson and Camden L. Spade
Mission
The Journal for the Measurement of Physical Behaviour is the official Journal of the International Society for the Measurement of Physical Behaviour and publishes high quality research papers that employ and/or apply sensor-based measures of physical activity, movement disorders, sedentary behaviour and sleep.
Research from multiple disciplines: kinesiology, psychology, computer science, engineering, statistics, public health, and clinical sciences
Types of papers
Experimental studies
Reviews, cross-sectional and longitudinal (cohort) studies
Brief reports
Technical notes
Evidence based best practices
About the Journal
Publisher: Human Kinetics
On-line journal (hard copies available upon request for extra charge
Part of membership dues ($30 per year)
4 issues per year
Open access publishing possible (fees range from $2000 – $2950)
No page charges
Submit a manuscript here: https://mc.manuscriptcentral.com/hk_jmpb
Topics (Examples)
Novel methods for sensor calibration and validation
New sensor technology
Analytic advances in measurement and interpretation
New sensor-based outcomes for clinical sciences
Applications of wearable monitors for assessing exposure and outcomes
Evidence based papers leading to best practices for use of wearable sensors in research and clinical settings
For complete submission details, instructions and to submit a manuscript to JSMPB, click the icon above
Access to the Journal for the Measurement of Physical Behaviour is a benefit of membership. 
Editor in Chief
Philippa Dall, Glasgow Caledonian University, UK
Editor in Chief emerita
Patty Freedson (Founding editor: 2018-2020)
University of Massachusetts, Amherst, USA
Associate Editors
Soren Brage, University of Cambridge, UK
Lisa Cadmus-Bertram, University of Wisconsin, Madison, USA
Dinesh John, Northeaster University, USA
Minsoo Kang, The University of Mississippi, USA
Joanne McVeigh, Curtin University, Australia
Alex Rowlands, University of Leicester, UK
Pedro Saint-Maurice, National Cancer Institute, USA
John Sirard, University of Massachusetts, Amherst, USA
Ben Stansfield, Glasgow Caledonian University, UK
Tom Stewart, Auckland University of Technology, New Zealand
Editorial Board
David Basset, University of Tennessee, Knoxville, USA
Matt Buman, Arizona State University, USA
Scott Crouter, University of Tennessee, Knoxville, USA
Alan Donnelly, University of Limerick, Ireland
Malcolm Granat, Salford University, UK
Jorunn Helbostad, Norwegian University of Science and Technology, Norway
Sarah Keadle, California Ploytechnic State University, USA
Kate Lyden, KAL Research/Consulting, USA
Ann Swartz, University of Wisconsin, Milwaukee, USA
Rick Troiano, National Cancer Institute, USA
Greg Welk, Iowa State University, USA