Journal for the Measurement of Physical Behaviour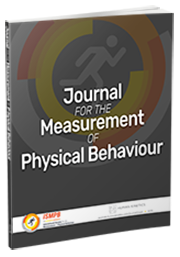 The June 2021 Issue of JMPB now available to ISMPB Members!
Click here to access the member area
Volume 4, Issue 2
ORIGINAL RESEARCH
Application of Convolutional Neural Network Algorithms for Advancing Sedentary and Activity Bout Classification By: Supun Nakandala, Marta M. Jankowska, Fatima Tuz-Zahra, John Bellettiere, Jordan A. Carlson, Andrea Z. LaCroix, Sheri J. Hartman, Dori E. Rosenberg, Jingjing Zou, Arun Kumar, and Loki Natarajan
Agreement Between Different Days of activPAL and Actigraph GT3X Measurement of Sedentary Behavior and Physical Activity During the School Hours in Elementary Children By: Luciana L.S. Barboza, Larissa Gandarela, Josefa Graziele S. Santana, Ellen Caroline M. Silva, Elondark S. Machado, Roberto Jerônimo S. Silva, Thayse N. Gomes, and Danilo R. Silva
Estimates of Physical Activity in Older Adults Using the ActiGraph Low-Frequency Extension Filter By: Hilary Hicks, Alexandra Laffer, Kayla Meyer, and Amber Watts
Sequential Activity Patterns and Outcome-Specific, Real-Time, and Target Group-Specific Feedback: The SPORT Algorithm By: Nathalie Berninger, Gill ten Hoor, Guy Plasqui, and Rik Crutzen
Shuteye Time Compared With Bedtime: Misclassification of Sleep in Adolescent Females By: Jillian J. Haszard, Tessa Scott, Claire Smith, and Meredith C. Peddie
Comparing Counts of Park Users With a Wearable Video Device and an Unmanned Aerial System By: Richard R. Suminski, Gregory M. Dominick, and Matthew Saponaro
Validity of Two Awake Wear-Time Classification Algorithms for activPAL in Youth, Adults, and Older Adults By: Jordan A. Carlson, Fatima Tuz-Zahra, John Bellettiere, Nicola D. Ridgers, Chelsea Steel, Carolina Bejarano, Andrea Z. LaCroix, Dori E. Rosenberg, Mikael Anne Greenwood-Hickman, Marta M. Jankowska, and Loki Natarajan
Physical Activity, Sedentary Behavior, and Time in Bed Among Finnish Adults Measured 24/7 by Triaxial Accelerometry By: Pauliina Husu, Kari Tokola, Henri Vähä-Ypyä, Harri Sievänen, Jaana Suni, Olli J. Heinonen, Jarmo Heiskanen, Kaisu M. Kaikkonen, Kai Savonen, Sami Kokko, and Tommi Vasankari
Exploring Machine Learning Models Based on Accelerometer Sensor Alone or Combined With Gyroscope to Classify Home-Based Exercises and Physical Behavior in (Pre)sarcopenic Older Adults By: Lenore Dedeyne, Jorgen A. Wullems, Jolan Dupont, Jos Tournoy, Evelien Gielen, and Sabine Verschueren
Accelerometry and Self-Report Are Congruent for Children's Moderate-to-Vigorous and Higher Intensity Physical Activity By: Claudio R. Nigg, Xanna Burg, Barbara Lohse, and Leslie Cunningham-Sabo
Mission
The Journal for the Measurement of Physical Behaviour is the official Journal of the International Society for the Measurement of Physical Behaviour and publishes high quality research papers that employ and/or apply sensor-based measures of physical activity, movement disorders, sedentary behaviour and sleep.
Research from multiple disciplines: kinesiology, psychology, computer science, engineering, statistics, public health, and clinical sciences
Types of papers
Experimental studies
Reviews, cross-sectional and longitudinal (cohort) studies
Brief reports
Technical notes
Evidence based best practices
About the Journal
Publisher: Human Kinetics
On-line journal (hard copies available upon request for extra charge
Part of membership dues ($30 per year)
4 issues per year
Open access publishing possible (fees range from $2000 – $2950)
No page charges
Submit a manuscript here: https://mc.manuscriptcentral.com/hk_jmpb
Topics (Examples)
Novel methods for sensor calibration and validation
New sensor technology
Analytic advances in measurement and interpretation
New sensor-based outcomes for clinical sciences
Applications of wearable monitors for assessing exposure and outcomes
Evidence based papers leading to best practices for use of wearable sensors in research and clinical settings
For complete submission details, instructions and to submit a manuscript to JSMPB, click the icon above
Access to the Journal for the Measurement of Physical Behaviour is a benefit of membership. 
Editor in Chief
Philippa Dall, Glasgow Caledonian University, UK
Editor in Chief emerita
Patty Freedson (Founding editor: 2018-2020)
University of Massachusetts, Amherst, USA
Associate Editors
Soren Brage, University of Cambridge, UK
Lisa Cadmus-Bertram, University of Wisconsin, Madison, USA
Dinesh John, Northeaster University, USA
Minsoo Kang, The University of Mississippi, USA
Joanne McVeigh, Curtin University, Australia
Alex Rowlands, University of Leicester, UK
Pedro Saint-Maurice, National Cancer Institute, USA
John Sirard, University of Massachusetts, Amherst, USA
Ben Stansfield, Glasgow Caledonian University, UK
Tom Stewart, Auckland University of Technology, New Zealand
Editorial Board
David Basset, University of Tennessee, Knoxville, USA
Matt Buman, Arizona State University, USA
Scott Crouter, University of Tennessee, Knoxville, USA
Alan Donnelly, University of Limerick, Ireland
Malcolm Granat, Salford University, UK
Jorunn Helbostad, Norwegian University of Science and Technology, Norway
Sarah Keadle, California Ploytechnic State University, USA
Kate Lyden, KAL Research/Consulting, USA
Ann Swartz, University of Wisconsin, Milwaukee, USA
Rick Troiano, National Cancer Institute, USA
Greg Welk, Iowa State University, USA