Journal for the Measurement of Physical Behaviour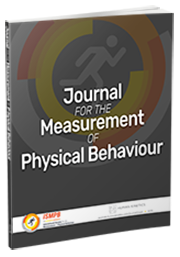 The DECEMBER 2019 Issue of JMPB now available to ISMPB Members!
Click here to access the member area
Volume 2, Issue 4
ORIGINAL RESEARCH
The Applicability of Thigh-Worn vs. Hip-Worn ActiGraph Accelerometers During Walking and Running
By: Katja Krustrup Pedersen, Esben Lykke Skovgaard, Ryan Larsen, Mikkel Stengaard, Søren Sørensen and Kristian Overgaard
Using the Wrist-Worn Atlas Wristband2 Monitor to Objectively Measure Resistance Training Exercises
By: Jeremy A. Steeves, Scott A. Conger, Joe R. Mitrzyk, Trevor A. Perry, Elise Flanagan, Alecia K. Fox, Trystan Weisinger and Alexander H.K. Montoye
Choice of Processingccess Method for Wrist-Worn Accelerometers Influences Interpretation of Free-Living Physical Activity Data in a Clinical Sample
By: Laura D. Ellingson, Paul R. Hibbing, Gregory J. Welk, Dana Dailey, Barbara A. Rakel, Leslie J. Crofford, Kathleen A. Sluka and Laura A. Frey-Law
Cross-Validation and Comparison of Energy Expenditure Prediction Models Using Count-Based and Raw Accelerometer Data in Youth
By: Alexander H.K. Montoye, Kimberly A. Clevenger, Kelly A. Mackintosh, Melitta A. McNarry and Karin A. Pfeiffer
Validity of a Wrist-Worn Activity Monitor During Resistance Training Exercises at Different Movement Speeds
By: Scott A. Conger, Alexander H.K. Montoye, Olivia Anderson, Danielle E. Boss and Jeremy A. Steeves
Achieving Accelerometer Wrist and Orientation Invariance in Physical Activity Classification via Domain Adaption
By: Joshua Twaites, Richard Everson, Joss Langford and Melvyn Hillsdon
Physical Activity Levels of Older Persons Admitted to Transitional Care Programs: An Accelerometer-Based Study
By: Salih A. Salih, Nancye M. Peel, Di Enright and Wendy Marshall
An Open-Source Monitor-Independent Movement Summary for Accelerometer Data Processing
By: Dinesh John, Qu Tang, Fahd Albinali and Stephen Intille
Mission
The Journal for the Measurement of Physical Behaviour is the official Journal of the International Society for the Measurement of Physical Behaviour and publishes high quality research papers that employ and/or apply sensor-based measures of physical activity, movement disorders, sedentary behaviour and sleep.
Research from multiple disciplines: kinesiology, psychology, computer science, engineering, statistics, public health, and clinical sciences
Types of papers
Experimental studies
Reviews, cross-sectional and longitudinal (cohort) studies
Brief reports
Technical notes
Evidence based best practices
About the Journal
Publisher: Human Kinetics
On-line journal (hard copies available upon request for extra charge
Part of membership dues ($30 per year)
4 issues per year
Open access publishing possible (fees range from $2000 – $2950)
No page charges
Web portal is open here: https://mc.manuscriptcentral.com/hk_jmpb
Topics (Examples)
Novel methods for sensor calibration and validation
New sensor technology
Analytic advances in measurement and interpretation
New sensor-based outcomes for clinical sciences
Applications of wearable monitors for assessing exposure and outcomes
Evidence based papers leading to best practices for use of wearable sensors in research and clinical settings
For complete submission details, instructions and to submit a manuscript to JSMPB, click the icon above
Access to the Journal for the Measurement of Physical Behaviour is a benefit of membership. 
Editor in Chief
Patty Freedson
Journal Operations Committee
Patty Freedson
Ben Stansfield
Alex Rowlands
H.J.G (Rita) Van den Berg
Associate Editors
Stephen Intille
Dinesh John
John Sirard
Rebecca Spencer
John Staudenmayer
Scott Strath
Lisa Cadmus-Betram
Soren Brage
Maria Hagstromer
Joanne McVeigh
John Reilly
Alex Rowlands
Stewart Trost
Editorial Board
Ann Swartz
Kathleen Janz
Rick Troiano
Greg Welk
Scott Crouter
David Bassett
Matt Buman
Sarah Keadle
Kate Lyden
HJG Van den Berg
Alan Donnelly
Phillippa Dall
Ben Stansfield
Malcolm Granat
Jorunn Helbostad