Journal for the Measurement of Physical Behaviour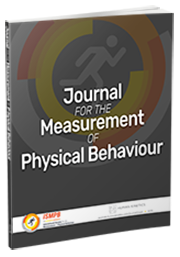 The December 2022 Issue of JMPB now available to ISMPB Members!
Click here to access the member area
Volume 5, Issue 4
Original Research
Missing Step Count Data? Step Away From the Expectation–Maximization Algorithm
Mia S. Tackney, Daniel Stahl, Elizabeth Williamson, and James Carpenter
CHAP-Adult: A Reliable and Valid Algorithm to Classify Sitting and Measure Sitting Patterns Using Data From Hip-Worn Accelerometers in Adults Aged 35+
John Bellettiere, Supun Nakandala, Fatima Tuz-Zahra, Elisabeth A.H. Winkler, Paul R. Hibbing, Genevieve N. Healy, David W. Dunstan, Neville Owen, Mikael Anne Greenwood-Hickman, Dori E. Rosenberg, Jingjing Zou, Jordan A. Carlson, Chongzhi Di, Lindsay W. Dillon, Marta M. Jankowska, Andrea Z. LaCroix, Nicola D. Ridgers, Rong Zablocki, Arun Kumar, and Loki Natarajan
Integrity and Performance of Four Tape Solutions for Mounting Accelerometry Devices: Lolland-Falster Health Study
Therese Lockenwitz Petersen, Jan C. Brønd, Eva Benfeldt, and Randi Jepsen
Evaluation of Two Thigh-Worn Accelerometer Brands in Laboratory and Free-Living Settings
Alexander H.K. Montoye, Olivia Coolman, Amberly Keyes, Megan Ready, Jaedyn Shelton, Ethan Willett, and Brian C. Rider
Agreement of Step-Based Metrics From ActiGraph and ActivPAL Accelerometers Worn Concurrently Among Older Adults
Eric T. Hyde, Steve Nguyen, Fatima Tuz-Zahra, Christopher C. Moore, Mikael Anne Greenwood-Hickman, Rod L. Walker, Loki Natarajan, Dori Rosenberg, and John Bellettiere
Reviews
A Comparison of Wrist- Versus Hip-Worn ActiGraph Sensors for Assessing Physical Activity in Adults: A Systematic Review
Nolan Gall, Ruopeng Sun, and Matthew Smuck
The Assessment of 24-Hr Physical Behavior in Children and Adolescents via Wearables: A Systematic Review of Laboratory Validation Studies
Marco Giurgiu, Carina Nigg, Janis Fiedler, Irina Timm, Ellen Rulf, Johannes B.J. Bussmann, Claudio R. Nigg, Alexander Woll, and Ulrich W. Ebner-Priemer
Technical Notes
CRIB: A Novel Method for Device-Based Physical Behavior Analysis
Paul R. Hibbing, Seth A. Creasy, and Jordan A. Carlson
Investigating the Effects of Applying Different Actigraphy Processing Approaches to Examine the Sleep Data of Patients With Neuropathic Pain
Hannah J. Coyle-Asbil, Anuj Bhatia, Andrew Lim, and Mandeep Singh
Brief Report
Impact of COVID-19 Pandemic on Physical Activity, Pain, Mood, and Sleep in Adults With Knee Osteoarthritis
Michael J. Rose, Michael P. LaValley, S. Reza Jafarzadeh, Kerry E. Costello, Nirali Shah, Soyoung Lee, Belinda Borrelli, Stephen P. Messier, Tuhina Neogi, and Deepak Kumar
ICAMPAM Conference Abstracts NOW PUBLISHED ONLINE!
The 8th International Conference on Ambulatory Monitoring of Physical Activity and Movement
Please find the ICAMPAM 2022 Conference Abstracts here
To subscribe to JMPB: https://journals.humankinetics.com/page/subscribe/jmpb
Mission
The Journal for the Measurement of Physical Behaviour is the official Journal of the International Society for the Measurement of Physical Behaviour and publishes high quality research papers that employ and/or apply sensor-based measures of physical activity, movement disorders, sedentary behaviour and sleep.
Research from multiple disciplines: kinesiology, psychology, computer science, engineering, statistics, public health, and clinical sciences
Types of papers
Experimental studies
Reviews, cross-sectional and longitudinal (cohort) studies
Brief reports
Technical notes
Evidence based best practices
About the Journal
Publisher: Human Kinetics
On-line journal (hard copies available upon request for extra charge
Part of membership dues ($30 per year)
4 issues per year
Open access publishing possible (fees range from $2000 – $2950)
No page charges
Submit a manuscript here: https://mc.manuscriptcentral.com/hk_jmpb
Topics (Examples)
Novel methods for sensor calibration and validation
New sensor technology
Analytic advances in measurement and interpretation
New sensor-based outcomes for clinical sciences
Applications of wearable monitors for assessing exposure and outcomes
Evidence based papers leading to best practices for use of wearable sensors in research and clinical settings
For complete submission details, instructions and to submit a manuscript to JSMPB, click the icon above
Access to the Journal for the Measurement of Physical Behaviour is a benefit of membership. 
Editor in Chief
Philippa Dall, Glasgow Caledonian University, UK
Editor in Chief emerita
Patty Freedson (Founding editor: 2018-2020)
University of Massachusetts, Amherst, USA
Associate Editors
Soren Brage, University of Cambridge, UK
Lisa Cadmus-Bertram, University of Wisconsin, Madison, USA
Dinesh John, Northeaster University, USA
Minsoo Kang, The University of Mississippi, USA
Joanne McVeigh, Curtin University, Australia
Alex Rowlands, University of Leicester, UK
Pedro Saint-Maurice, National Cancer Institute, USA
John Sirard, University of Massachusetts, Amherst, USA
Ben Stansfield, Glasgow Caledonian University, UK
Tom Stewart, Auckland University of Technology, New Zealand
Editorial Board
David Basset, University of Tennessee, Knoxville, USA
Matt Buman, Arizona State University, USA
Scott Crouter, University of Tennessee, Knoxville, USA
Alan Donnelly, University of Limerick, Ireland
Malcolm Granat, Salford University, UK
Jorunn Helbostad, Norwegian University of Science and Technology, Norway
Sarah Keadle, California Ploytechnic State University, USA
Kate Lyden, KAL Research/Consulting, USA
Ann Swartz, University of Wisconsin, Milwaukee, USA
Rick Troiano, National Cancer Institute, USA
Greg Welk, Iowa State University, USA