Journal for the Measurement of Physical Behaviour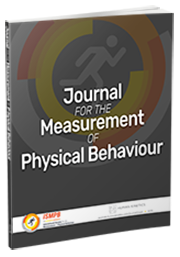 The September 2022 Issue of JMPB now available to ISMPB Members!
Click here to access the member area
Volume 5, Issue 3
Review
The Use of Accelerometers in Young Children: A Methodological Scoping Review
Becky Breau, Hannah J. Coyle-Asbil, and Lori Ann Vallis
Commentary
A Physical Behaviour Partnership From Heaven: The Prospective Physical Activity, Sitting, and Sleep Consortium and the International Society for the Measurement of Physical Behaviour
Emmanuel Stamatakis, Bronwyn K. Clark, Matthew N. Ahmadi, Joanna M. Blodgett, Malcolm H. Granat, Alan Donnelly, Andrew J. Atkin, Li-Tang Tsai, Gregore I. Mielke, Richard M. Pulsford, Nidhi Gupta, Patrick Crawley, Matthew Stevens, Peter Johansson, Laura Brocklebank, Lauren B. Sherar, Vegar Rangul, Andreas Holtermann, Mark Hamer, and Annemarie Koster
Original Research
Simulation-Based Evaluation of Methods for Handling Nonwear Time in Accelerometer Studies of Physical Activity
Kristopher I. Kapphahn, Jorge A. Banda, K. Farish Haydel, Thomas N. Robinson, and Manisha Desai
Calibration of an Accelerometer Activity Index Among Older Women and Its Association With Cardiometabolic Risk Factors
Guangxing Wang, Sixuan Wu, Kelly R. Evenson, Ilsuk Kang, Michael J. LaMonte, John Bellettiere, I-Min Lee, Annie Green Howard, Andrea Z. LaCroix, and Chongzhi Di
Tracking of Walking and Running for Exercise: Alignment Between Ecological Momentary Assessment and Accelerometer-Based Estimates
Kelley Strohacker, Lindsay P. Toth, Lucas F. Sheridan, and Scott E. Crouter
Depressive Symptoms Are Associated With Accelerometer-Measured Physical Activity and Time in Bed Among Working-Aged Men and Women
Pauliina Husu, Kari Tokola, Henri Vähä-Ypyä, Harri Sievänen, and Tommi Vasankari
Effectiveness of Fitbit Activity Prompts in Reducing Sitting Time and Increasing Physical Activity in University Employees: A Randomized Controlled Trial
Benjamin D. Boudreaux, Julie A. Schenck, Zhixuan Chu, and Michael D. Schmidt
To subscribe to JMPB: https://journals.humankinetics.com/page/subscribe/jmpb
Mission
The Journal for the Measurement of Physical Behaviour is the official Journal of the International Society for the Measurement of Physical Behaviour and publishes high quality research papers that employ and/or apply sensor-based measures of physical activity, movement disorders, sedentary behaviour and sleep.
Research from multiple disciplines: kinesiology, psychology, computer science, engineering, statistics, public health, and clinical sciences
Types of papers
Experimental studies
Reviews, cross-sectional and longitudinal (cohort) studies
Brief reports
Technical notes
Evidence based best practices
About the Journal
Publisher: Human Kinetics
On-line journal (hard copies available upon request for extra charge
Part of membership dues ($30 per year)
4 issues per year
Open access publishing possible (fees range from $2000 – $2950)
No page charges
Submit a manuscript here: https://mc.manuscriptcentral.com/hk_jmpb
Topics (Examples)
Novel methods for sensor calibration and validation
New sensor technology
Analytic advances in measurement and interpretation
New sensor-based outcomes for clinical sciences
Applications of wearable monitors for assessing exposure and outcomes
Evidence based papers leading to best practices for use of wearable sensors in research and clinical settings
For complete submission details, instructions and to submit a manuscript to JSMPB, click the icon above
Access to the Journal for the Measurement of Physical Behaviour is a benefit of membership. 
Editor in Chief
Philippa Dall, Glasgow Caledonian University, UK
Editor in Chief emerita
Patty Freedson (Founding editor: 2018-2020)
University of Massachusetts, Amherst, USA
Associate Editors
Soren Brage, University of Cambridge, UK
Lisa Cadmus-Bertram, University of Wisconsin, Madison, USA
Dinesh John, Northeaster University, USA
Minsoo Kang, The University of Mississippi, USA
Joanne McVeigh, Curtin University, Australia
Alex Rowlands, University of Leicester, UK
Pedro Saint-Maurice, National Cancer Institute, USA
John Sirard, University of Massachusetts, Amherst, USA
Ben Stansfield, Glasgow Caledonian University, UK
Tom Stewart, Auckland University of Technology, New Zealand
Editorial Board
David Basset, University of Tennessee, Knoxville, USA
Matt Buman, Arizona State University, USA
Scott Crouter, University of Tennessee, Knoxville, USA
Alan Donnelly, University of Limerick, Ireland
Malcolm Granat, Salford University, UK
Jorunn Helbostad, Norwegian University of Science and Technology, Norway
Sarah Keadle, California Ploytechnic State University, USA
Kate Lyden, KAL Research/Consulting, USA
Ann Swartz, University of Wisconsin, Milwaukee, USA
Rick Troiano, National Cancer Institute, USA
Greg Welk, Iowa State University, USA