Individual abstract submission guidelines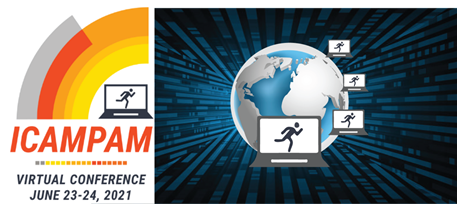 Virtual ICAMPAM 2021
Latest Findings on Physical Behaviour Monitoring Research
The ICAMPAM Scientific Committee invites submission of research abstracts for its 2021 first Virtual Conference. All submissions will be evaluated by the Scientific Committee.
Measurement of physical behaviour encompasses all human behaviours over the day including active, sedentary and sleep time. Abstracts are sought that address measurement of any or all of these human behaviours in the following themes:
 Applications
Clinical populations (neurological disorders, such as Parkinson's disease, Alzheimer, etc.; chronic metabolic disorders; Diabetes, CHF, COPD, Osteoarthritis, etc.; musculoskeletal disorders; etc.)
Specific populations (aging, children, diverse world regions)
COVID-19
Public Health
Healthy Environments
Sports
Work/Circadian rhythm
Future perspectives (for example, prediction of health events, empowering users/patients)
Technology & Algorithm Development
Hardware Development
Algorithm development
Validation
eHealth
User centred design
Future perspectives (for example, Internet of Things, Smart Homes, etc.)
Measurement & Analysis
Big data
Machine learning/Data mining
Multi-modal assessment
Statistics
Monitoring during COVID-19
Privacy
FAIR principles
Future perspectives (for example, AI)
How to Submit
All abstracts will be blind-reviewed by the Scientific Committee.
Please note there is no fee associated with abstract submission and there is a maximum submission number of 2 per submitter. Submissions will close on May 10, 2021.
All accepted submissions will be presented as a virtual poster booth in the virtual platform, Whova.  This requires a short 2-3min video presentation of your poster.  Your poster will be available throughout the conference for attendees to visit, review and submit any questions.  You will also be assigned a poster time to be "live" in your virtual booth to answer questions.
All abstracts of presented posters will be published in a special issue of our official journal, The Journal for the Measurement of Physical Behaviour.
Submission Deadlines
Abstract submissions open – January 25, 2021
Abstract submissions close – May 10, 2021
Submission deadlines are 23:59 Central Daylight Time on the indicated submission date.
IMPORTANT: Confirmations of accepted abstracts will be issued late-May. If you have not received a confirmation email from us by May 30, please Contact Us
When submitting an abstract for ICAMPAM, please refer to the Abstract Submission Guidelines below.
Abstract Submission Guidelines
Select a theme that most closely aligns with your submission.
Enter your contact name, affiliation/institution name and email address (please note authors may specify only one affiliation).
Enter all corresponding authors in the order they should appear in the program. Please note: author information will appear in the conference program exactly as it is entered into the submission software!
Prepare an abstract title (Max 225 characters).
Up to 1 figure or table allowed (it does not count toward the word limit)
The abstract must be structured by Introduction, Methods, Results, and Discussion.
Abstract length is Max 2000 characters.
If the submitted abstract is accepted as a poster, you agree to present it as a Virtual ICAMPAM poster.
A poster presentation duration will be a maximum of 5 minutes (further instructions will follow)
Only submitted and presented abstracts will be published in The Journal for the Measurement of Physical Behaviour.
Abstracts should not report findings that will be published elsewhere prior to the meeting, although presentation of the work at a recent meeting (e.g., within a year) of another society is acceptable.
Use standard abbreviations for units of measure. Other abbreviations should be fully spelled out on first mention, followed by the abbreviation in parentheses.