Below are some instructions and pointers about attending a virtual conference including key dates and information about the virtual conference platform.
What to Expect from a Virtual Conference
2021 Virtual ICAMPAM will be hosted via Whova. You will be able to access the conference content via a Web app and a Mobile App. (The web app platform recommends that you use Chrome as your browser). The applications will be launched prior to the conference start and all registered attendees will receive notice by email.
A full downloadable document on What to Expect, will assist you with your experience.
Web App & Mobile App
On the day of the congress you will login to the ICAMPAM event through the website here using the button to enter the virtual conference.
*The platform recommends using Chrome as your browser.
If you have used Whova before as a conference app or virtual app, please login with your email and password. If you have never used Whova before or used it with a different email address, please click on "sign up here" as itemized in the screenshot.
Please be sure to use the email address you used to register for ICAMPAM Conference.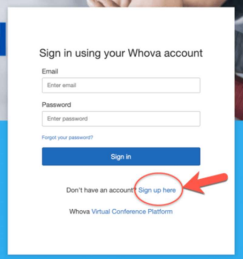 Main Conference Lobby
Once you have logged in, you will first see the home page of the Virtual Conference. From this space you can click on the various areas in the menu on the left to access sections of the conference.
-Click on Agenda to see any sessions in the program.
-Click on Attendees to view and message individuals directly.
-Click on Community to enter chat spaces with other attendees.
-Click on Sponsors to view the organizations supporting ICAMPAM this year.
-Click on Posters to view all ICAMPAM Poster Presentations.
-Click on Messages to view your personal messages within the platform.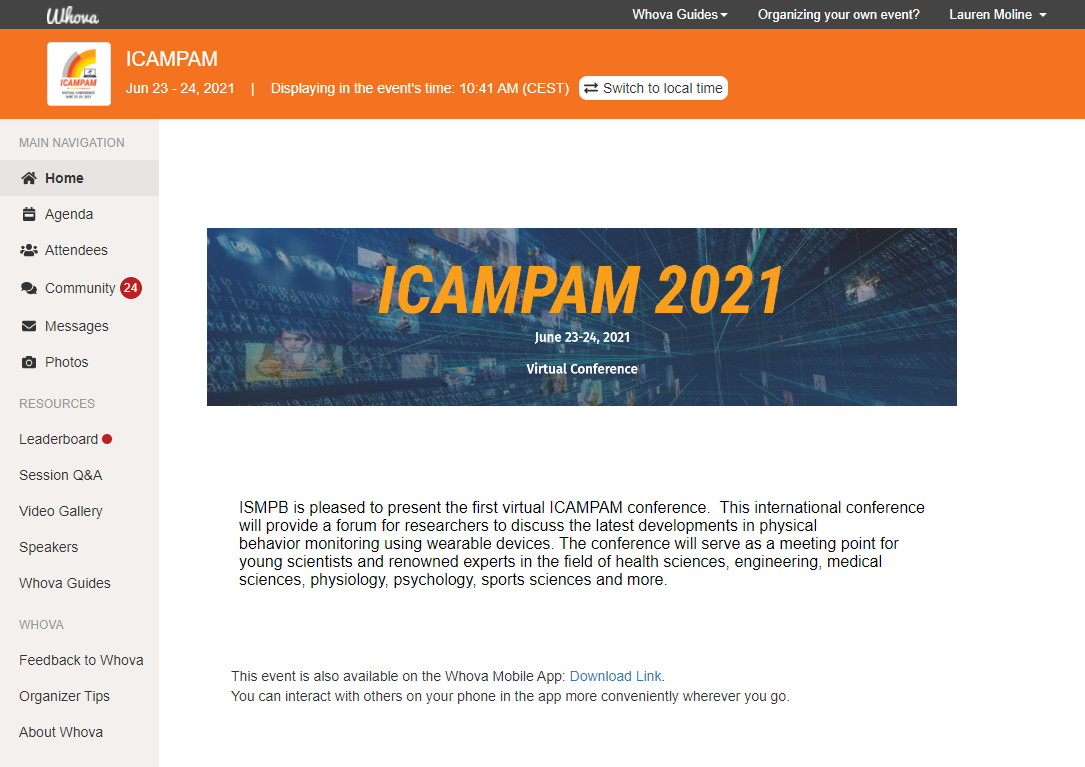 Inside a LIVE ZOOM Session
Q&A sessions that follow the presentations are live via Zoom but provided WITHIN the Whova platform for attendees. You will click on the Q&A session in the agenda within Whova to participate. Most sessions are offered as Webinars, where attendees can interact via chat, Q&A, but not video/audio. If the live session is set up as a meeting, Whova will ask for your permission to share your video and audio through their application to Zoom for your full participation. There is no need to login separately to Zoom unless you are an official speaker or moderator for the live session.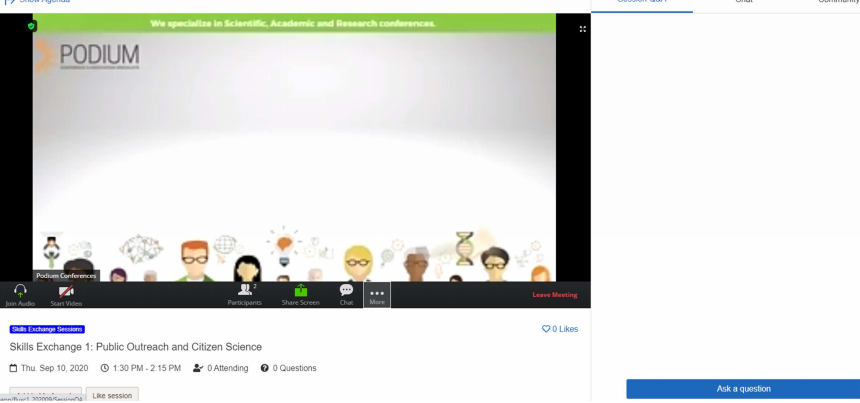 Attendees
You can view all attendees, send message and view profiles here.  Please check your messages throughout the conference"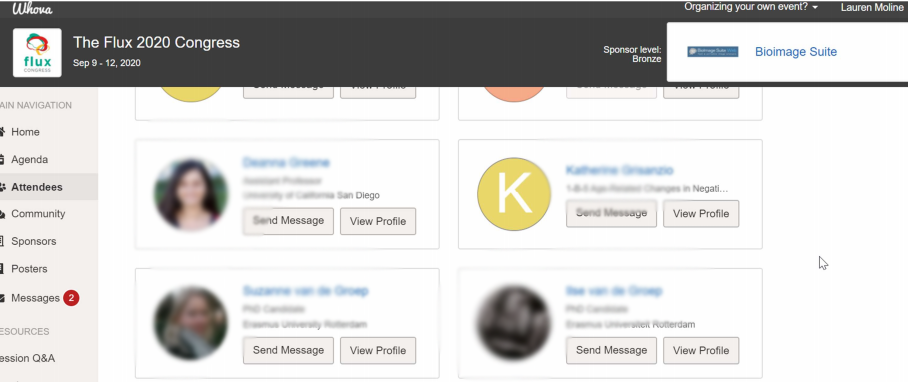 Community
The community section allows for you to connect with others via chat spaces on specific topics, ideas or areas of interest. Create a new space, suggest a meet up & connect.
Posters
The poster hall will list all the posters during the ICAMPAM Conference.  You will be able to view posters at anytime during the conference and ask questions in the text chat box but at only assigned times will the poster presenter officially be available to answer questions live. If you wish to search for a specific topic or keyword, click the drop-down box that says "All Exhibitors" to view those posters grouped by one specific keyword. You can also search for the presenter's name, words from the title of their poster or poster number in the provided search box.